No Code Jam #2
July 17, 2021 @ 2:00 pm

-

July 19, 2021 @ 2:00 pm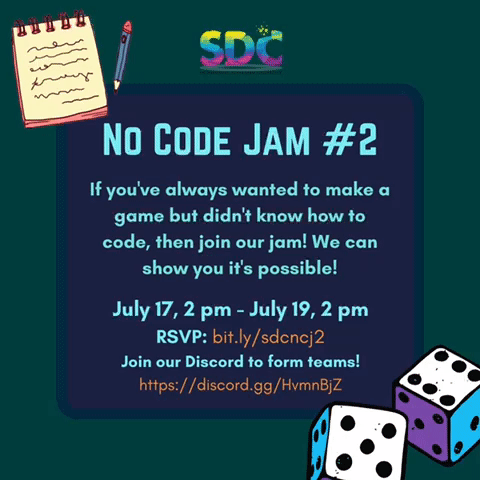 Here's the challenge… make a game in 48 hours with no code. With countless no code tools at your disposal, what game will you make?
Welcome to No Code Jam #2! We're booting up our monthly game jams again with little twists here and there 🙂
We're coming back with one of our most attended Game Jams from last year… NoCode Jam!!! You might recognize this jam, and if you do, you'll be pleased to see we're making our No Code Jam an annual event!
All Disciplines Welcome! You don't have to be from Sacramento, CA to join the jam either.
This game jam will be running for 48 hours (with time for sleep of course, or no sleep at all) with additional resources being shared through our social media and more! So stay tuned!
/ / / / / / / / / / / / / / / / / / / / / / / / / / / / / / / / / / / / / / / / / /
What does No Code mean for this Game Jam?
No Code noun
/nō-kōd/
1 :a style of game development characterized by the use of visual scripting, node editors, GUI's, drag n' drop and more. These tools empower creators who do not know how to code or have just started their journey. This also includes those who know how to code, but want to explore new tools to augment their workflows.
/ / / / / / / / / / / / / / / / / / / / / / / / / / / / / / / / / / / / / / / / / /
If you'd still like to code for your game, that's fine, so long as you incorporate a no code tool for your submission to be valid. If you make your own no code tool for the jam and use it in your game, that's cool too! Please specify that in your submission. If you already have your own custom no code tool, use that! (And maybe share that too!)
/ / / / / / / / / / / / / / / / / / / / / / / / / / / / / / / / / / / / / / / / / /
Theme: TBD
Come join us in our Discord! We have Game Jam channels for you to work in if you'd like to create teams 🙂
Our theme will be announced the day of the jam! <3
/ / / / / / / / / / / / / / / / / / / / / / / / / / / / / / / / / / / / / / / / / /
Game Jam Link: http://bit.ly/sdcncj2